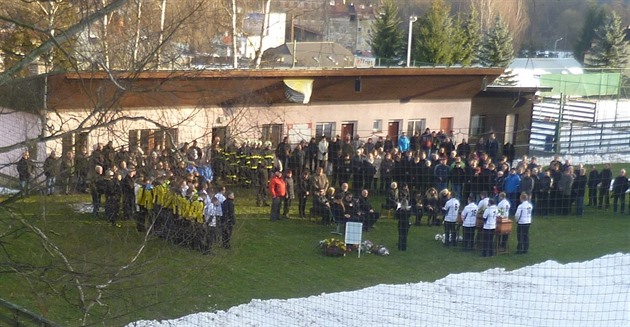 "Arnošt did not want a funeral at all, so we did a sports farewell on the pitch," says Věra Mužíčková, manager's cousin and a team of football clubs. "Because it was a lot of snow, we had to cut it off in front of the booth before the ceremony." Arnošt prepared a training ground or a match, sitting in front of the cabin, looking around the green lawn. There was a spot in front of his eyes, where, recently, in a farewell to his trustee, the janitors and firefighters kept the honor guard at the coffin.Instead of burial wreaths they lay in front of the cataphalk of the ball.
Administrator made Arnošt in the stadium in Hliňák since 1974, when in the Plave after a long pause resumed adult team. "This year he played a playground in August before a friend," recalls Luboš Tomíček, President of TJ Sokol Plavy. "He was not well, so we persuaded him to finish it. We did not know the last time we talked to him. "
Arnošt's birthplace stood directly on the hill above the playground.The meadow, which originated in the First Republic, belonged once to his grandfather. "Due to the severe health handicap Arnošt could not play football, but he dedicated his life all the time," says the man.
Plavský správce remembered the time when the players on the pitch did not dress in the booths, but in the old decommissioned tram and in the metal shed, which served as a warehouse.
"Also thanks to his dedication a small miracle in our village club, "adds Tomíček. "From 1988 to 1989 our championship game did not last for more than a year."
When Arnošt lay in a serious condition at the hospital, Tomika asked him all over the region.
"Over the forty years he has managed to play, he has become popular among several generations of our footballers and also among our rivals," explains Tomíček. "When we have never been successful in recent years, he always said: If we descend from the county 1.B class, so here I'm done. "
The well-meaning" threats "by Administrators have always worked reliably. A village with a thousand inhabitants has been holding regional competitions for 27 years. "At the funeral feast, when the Arnošt players were drinking, they followed me and said," We would like to die tomorrow and have such a beautiful burial on the playground, "says Mužíčková.