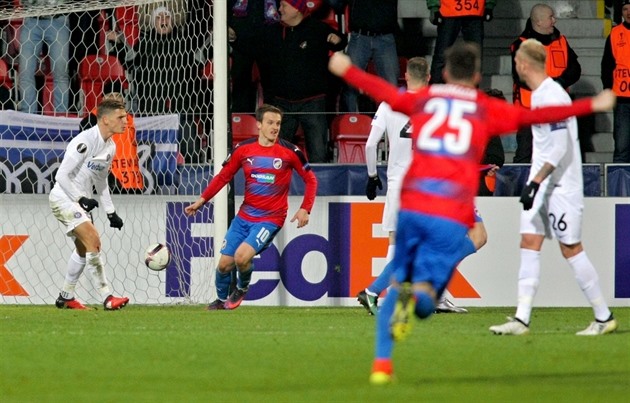 Pilsen did not advance to the spring, but in its final duel in 2016 at least broke a series that she did not want. In the European Cups, he won fourteen matches.
He took care of the alternating Ďuriš, who after the hour of play replaced the representative striker Krmenčík. 72 minutes into the match, the visitors put themselves up by right at the feet of Horova on the right. Seven minutes before the end he broke the head of the center of Zeman on the left side.
The first goal of Horava at the end of the half-time, when he lowered to 1: 2 to turn Plzeň back into the game
Pilsen had to play seventy minutes in ten, so getting out of zero deserves admiration.But they did not seem to have a good turn, but it was rather a desperate rival who would advance to the spring stage in the event of a victory.
Austria had a very good game. Kiks Kozáčika was able to score after 18 minutes when he suited off his lead, as he went for a field on the left.
A poor pass was sent to the chance of guest Pires, who ran himself on the gates. And Hejda in an attempt to stop the opponent back from the back. Red card, penalty and goal.
The Pilsen players had a total defeat before the game. Limbersky and Baranek are injured, Matějů punished, Hubner blocked the cervical spine before the match. The defenders had to fight with Kovarik in the defense, the butcher of the Butcher went to the stop.Excluding Hejda crowned the situation.
As Heamdu retracted the Heads back, the home weakened in the middle of the field.
An unusually silenced audience, including former Pilsen coach Pavel Vrba, has been watching for a long time the guests combine boldly in the middle of the field.
But when they went straight ahead they were dangerous. Some of the promising attacks were the solo Larsen, but Kozáček did not have a chance in the game. But followed by a corner and a high thrower, Rotpuller scored another goal.
Pilsen grew hard but rose. And at the very end of the half-time, it also dropped down the corner when the Burning was knocking on the back stick.
The home team ended with a promising start when they pushed the opponents. Kopic's shot was shot by the goalie on the pole and Krmenčík's head came into the bar.However, the onslaught was a bad result of Kozacka. But Hořava's goal was hopeful.
But after the break, the match ran without exciting moments, as if the two teams were waiting for it to be over. The guests were too relying on somehow to lose it. They did not play. They were unable to capture Pilsen's attacks after losing the ball and charging Durise.