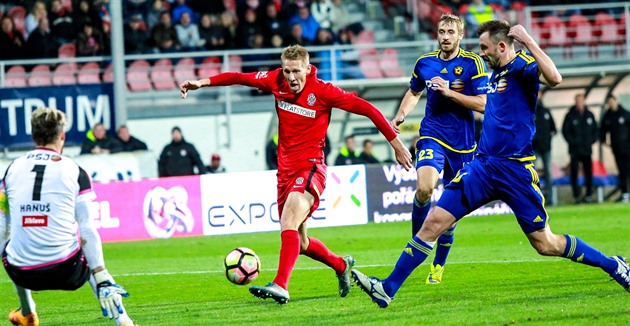 Player's representative, Jiri Stejskal, told Aktualne.cz that there are three clubs from Ekstraklas in Poland, including teams from the front of the table.
"The agent told me what clubs he is going to do, but I have not said it yet," Škoda said. He has become a very hot commodity in recent months. Until recently, the relatively insignificant offensive midfielder pointed to seven goals in the previous year, then glowed as a supernova in the autumn.
The team in Brno, who struggled with himself, managed to shoot ten goals, with no one in the league did not give more. He added two assistances, so he took care of almost two-thirds of the armor.It is no wonder that he was interested, although he was not a young man at the age of 28.
For Zbrojovka, the loss of Damage would have been a huge hole that would hardly stick. It was he who was fighting with Jakub Řezníček, who was at the head of the Brno club, but Škoda's departure is not yet a hot topic. "No official demand for any club in the Zbrojovka has come. When it comes to something, I'll start to deal with it. Meanwhile, it's a shrug, information at the level of a lady talks, "said Václav Bartonek.
Posting information on Polish interest may be part of the agent's tactics to alert his trustee. "If he thinks he's going to get someone to take a specific step, I can not take it.I understand his interest in the welfare of the player, "Bartonek said.
When asked if he was willing to sell his gem, he responded:" I am not a scientist. When there is something specific, I can analyze it and draw conclusions. In the meantime, there are no such conclusions. "
Škoda himself would not hesitate to change the jersey. And Poland is a relatively attractive address, the biggest clubs have against these Czech multiple budgets and visits. "Every club that interests me will please me. Poland has been doing quite well in recent times, their national team and league are getting up, they have nice stadiums, there are a lot of people going there.I certainly would not mind, "the midfielder said. "With the Zbrojovka, we are agreed that if there is a bid to accept, it will not hinder me in my departure."
The Brno team, which is only fourteen points above the descent but needs players to buy than to sell. "I deal with the cadre for the spring season, which is Škoda. From the point of view of his role in the club we are clear and do not deal more, "said Bartoněk, who is now seeking reinforcements. "We work systemically on them."